Zinc Balance (L-OptiZinc), 15 mg, 100 膠囊
41619
This is a carousel with one large image and a track of thumbnails below. Select any of the image buttons to change the main image above.
Zinc Balance (L-OptiZinc), 15 mg, 100 膠囊
41619
More Information
補充劑成分
product

每份
含量
%每日
攝入
量(DV)
Zinc (as L-Monomethionine) (from L-OptiZinc)
15 mg每份
含量
100 %

Daily Value

Copper (as Gluconate)
1 mg每份
含量
50 %

Daily Value
其他成分:
Cellulose, Magnesium Stearate (vegetable source). Capsule consists of gelatin.
食用指南:
Take 1 capsule per day or every other day, preferably with food or as directed by your qualified healthcare professional.
警告:
*These statements have not been evaluated by the Food and Drug Administration. This product is not intended to diagnose, treat, cure or prevent any disease.

Keep out of reach of children. If you have a medical condition, are pregnant, lactating, trying to conceive, under the age of 18, or taking medications, consult your health care practitioner before using this product. Store in a cool, dry place.
其他資訊:
L-OptiZinc is a registered trademark of InterHealth Nutraceuticals, Inc.
PipingRock 以先進的內部分析測試支援對品質的 熱誠
PipingRock 保證最高品質,因為我們以自有的最先進設備對我們的 補充品進行設計、製造和測試。

非基改保證
在 PipingRock,我們最重視您的健康。許多食品補充品中具有轉基因生物體 (GMO),然而卻尚未證明可長期安全食用。 PipingRock 致力於不斷增加重多的非轉基因產品系列,不受轉基因潛在影響提供優質產品。
100% 滿意度保證
我們支持我們產品品質。 若您因任何原因對您的 PipingRock 產品有任何不滿意,我們將根據退貨政策進行全額退款。
Zinc Balance (L-OptiZinc), 15 mg, 100 膠囊
41619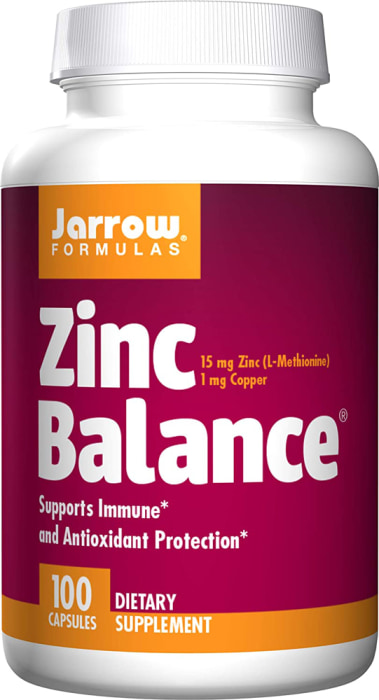 Zinc Balance (L-OptiZinc), 15 mg, 100 膠囊
41619
PipingRock.com
1-3 之 3 顧客評價
@anonymous
@anonymous@anonymous
Oct 03, 2022
評論 2
投票 1
@anonymous
@anonymous@anonymous
Sep 01, 2021
評論 2
@anonymous
@anonymous@anonymous
Mar 22, 2021
評論 3
投票 1