點擊圖片放大
4舒緩香精油, 1/2 fl oz (15 mL) 滴管瓶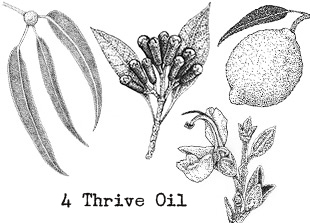 Perhaps one of the most popular oil blends in aromatherapy, 4 Thrive Oil is a perfectly balanced blend of Lemon, Rosemary, Clove and Eucalyptus Oils. Based off the time-old concoction known as "Four Thieves Vinegar," 4 Thrive Oil has a rich history of use dating back to the Dark Ages in Europe. The oils chosen for this popular blend sport cleansing properties, making it a natural, chemical-free alternative to store-bought toxic household cleaners.
Plant Part Used
Lemon rinds, Clove flower buds, Eucalyptus leaves and twigs, Rosemary sprigs
Extraction Method
Lemon: Cold pressed; Clove, Eucalyptus, & Rosemary: Steam distillation
Aroma
Strong. Spicy and earthy, with notes of licorice.
Benefits
Uplifting and energizing. Helps cleanse negative emotions and ease feelings of fear and doubt.
Using 4 Thrive Oil
Home Cleaning Alternative
Combine 10 drops per 20 mL vinegar or distilled water to create an all-natural multi-surface home cleaner.
Air Freshener
Combine 20 drops per 40 mL distilled water in a spray bottle for an all-natural air freshener and cleanser.
Bath & Shower
Add 5-10 drops to hot bath water, or sprinle into shower steam before getting in for an at-home spa experience.
Massage
8-10 drops of essential oil per 1 ounce of carrier oil. Apply a small amount directly to areas of concern, such as muscles, skin, or joints. Work the oil gently into the skin unil it is fully absorbed.
Inhalation
Inhale the aromatic vapors directly from the bottle, or place a few drops in a burner or diffuser to fill a room with its scent.
DIY Projects
This oil can be used in your homemade DIY projects such as candles, soaps and other body care products!
Piping Rock's Promise:
We proudly offer you everything you need for an advanced, daily Aromatherapy regiment at the lowest cost in the industry! From Essential Oils to Carrier Oils, Diffusers to Blending Bottles, Beeswax, Books & more, we have you covered. With over 100 Essential Oils to choose from, you can create your own homemade scents and beauty products. Enjoy various blends & Essential Oils Sprays or experience our revitalizing, botanical Massage Oils!
About Piping Rock's Quality:
You've found your One-Stop-Shop for Aromatherapy products at Piping Rock. Our Essentials Oils are crafted in our own "GMP Certified" manufacturing facilities. We verify Piping Rock products with third-party, FDA-registered agencies to ensure quality. Each product goes through hundreds of checks, in-process and post-production. Our outstanding Essential Oils are GCMS tested to deliver guaranteed purity. We offer various 100% Pure Essentials along with other popular, unique blends. We guarantee purity, potency, safety and innovation in everything we do.
其他規格
相關產品