CON-CRET肌酸鹽酸(檸檬萊姆), 61.4 g 酒瓶
41843
This is a carousel with one large image and a track of thumbnails below. Select any of the image buttons to change the main image above.
CON-CRET肌酸鹽酸(檸檬萊姆), 61.4 g 酒瓶
41843
More Information
補充劑成分
每份規格

1 Scoop (750 mg)

每瓶份數

64
product

每份
含量
%每日
攝入
量(DV)
Patented Creatine HCl®
750 mg每份
含量
‡

Daily Value
其他成分:
Natural Flavors, Reb A (Stevia Rebaudiana Leaf Extract).
食用指南:
Take 30 to 60 minutes prior to training with 6 oz. of water or to desired concentrate. CON-CRET can be taken with or without food or protein.
警告:
This product is not intended for individuals under the age of 18. consult your physician prior to using this or any other supplement or if you are taking any OTC or prescription medications. Do not exceed the recommended serving. Discontinue use immediately and consult your healthcare professional if you experience any adverse reaction to this product. Maintain adequate hydration. Exposure to moisture and humidity may cause clumping but will not affect product performance. Keep out of reach of children. Do not use this product if you are pregnant, contemplating pregnancy or nursing. Store in a cool, dry place.
其他資訊:
Gluten Free. No Calories, Carbs, Sugar. No Artificial Color, Flavor or Sweeteners.
PipingRock 以先進的內部分析測試支援對品質的 熱誠
PipingRock 保證最高品質,因為我們以自有的最先進設備對我們的 補充品進行設計、製造和測試。

非基改保證
在 PipingRock,我們最重視您的健康。許多食品補充品中具有轉基因生物體 (GMO),然而卻尚未證明可長期安全食用。 PipingRock 致力於不斷增加重多的非轉基因產品系列,不受轉基因潛在影響提供優質產品。
100% 滿意度保證
我們支持我們產品品質。 若您因任何原因對您的 PipingRock 產品有任何不滿意,我們將根據退貨政策進行全額退款。
CON-CRET肌酸鹽酸(檸檬萊姆), 61.4 g 酒瓶
41843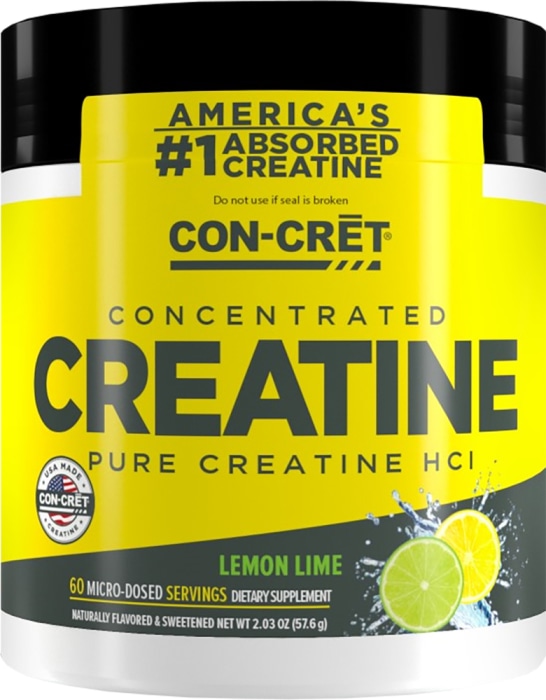 CON-CRET肌酸鹽酸(檸檬萊姆), 61.4 g 酒瓶
41843
PipingRock.com
1-1 之 1 顧客評價
SteveA
SteveASteveA
Oct 04, 2021
評論 2
投票 1
性別 男性
年齡 45至54
Great but there's better
Great product but not favorite flavorGreat product but not favorite flavor