亮氨酸, 5000 mg, 14.11 oz (400 g) 粉末
45489
This is a carousel with one large image and a track of thumbnails below. Select any of the image buttons to change the main image above.
亮氨酸, 5000 mg, 14.11 oz (400 g) 粉末
45489
用量:
1 | 14.11 oz (400 g) 粉末
- 有現貨
More Information
補充劑成分
每份規格

1 Scoop (5 g)

每瓶份數

80
product

每份
含量
%每日
攝入
量(DV)
Leucine
5 g每份
含量

*
食用指南:
One serving (1 scoop) 2 times per day. (Take one serving immediately after intense activity). Serving Tip: Pure Leucine by nature basically tastes neutral with a slightly tart or bitter taste and does not dissolve immediately in water. We recommend adding it to your shake, a flavored mix or juice such as squeezed lemon with an artificial sweetener like Stevia or Sucralose. Mixing with an electric blender is recommended.
警告:
Not recommended for anyone under 18. Do not use if pregnant or nursing. Consult a healthcare provider if you have been treated for or diagnosed with a medical condition., or if you are using any medication. Use only as directed. DO not use if seal under cap is broken. Store in a cool dry place away from sunlight. Keep out of reach of children.
PipingRock 以先進的內部分析測試支援對品質的 熱誠
PipingRock 保證最高品質,因為我們以自有的最先進設備對我們的 補充品進行設計、製造和測試。

非基改保證
在 PipingRock,我們最重視您的健康。許多食品補充品中具有轉基因生物體 (GMO),然而卻尚未證明可長期安全食用。 PipingRock 致力於不斷增加重多的非轉基因產品系列,不受轉基因潛在影響提供優質產品。
100% 滿意度保證
我們支持我們產品品質。 若您因任何原因對您的 PipingRock 產品有任何不滿意,我們將根據退貨政策進行全額退款。
亮氨酸, 5000 mg, 14.11 oz (400 g) 粉末
45489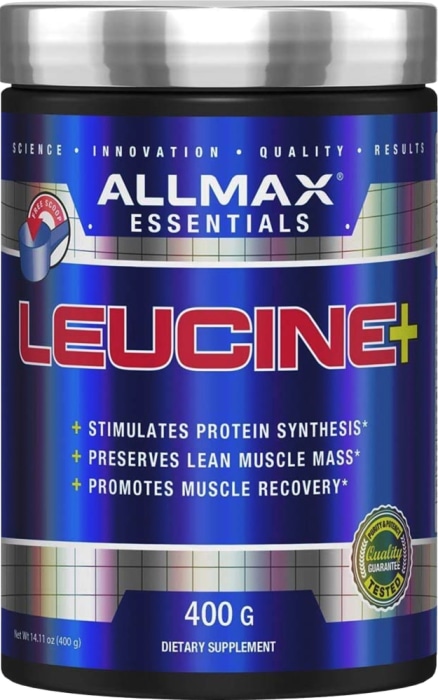 亮氨酸, 5000 mg, 14.11 oz (400 g) 粉末
45489
用量:
1 | 14.11 oz (400 g) 粉末
- 有現貨