必需氨基酸(混合水果), 1.29 lbs (585 g) 酒瓶
41365
This is a carousel with one large image and a track of thumbnails below. Select any of the image buttons to change the main image above.
必需氨基酸(混合水果), 1.29 lbs (585 g) 酒瓶
41365
用量:
1 | 1.29 lbs (585 g) 酒瓶
- 有現貨
More Information
補充劑成分
每份規格

2 Scoops (9 g)

每瓶份數

65
product

每份
含量
%每日
攝入
量(DV)
Calories
10 每份
含量
Total Carbohydrate
2 g每份
含量
1

%*

Amino Blend

Micronized Taurine, Micronized L-Glutamine, Micronized L-Arginine, Micronized L-Leucine, Beta-Alanine (as CarnoSyn), Micronized Citrulline, Micronized L-Isoleucine, Micronized L-Valine, Micronized L-Tyrosine, Micronized L-Histidine, Micronized L-Lysine HCl, Micronized L-Phenylalanine, Micronized L-Threonine, Micronized L-Methionine,

5 g每份
含量

†

Energy Blend**

Caffeine (from Green Tea)**, Green Tea Extract (Camellia Sinensis)(leaf)(standardized for EGCG), Green Coffee Extract (bean)

160 mg每份
含量

†
其他成分:
Citric Acid, Malic Acid, Natural & Artificial Flavors, Inulin, Beet Color, Tartaric Acid, Silicon Dioxide, Calcium Silicate, Gum Blend (Cellulose Gum, Xanthan Gum, Carrageenan), Sucralose, Lecithin, FD&C Yellow #5&6.
食用指南:
Mix two scoops of Essential Amino Energy in 10-12 oz of cold water.

For Pre-Workout Energy Support:
Take 2-6 scoops 20-30 minutes before training.

For Post-Workout Amino Support:
At least 4 hours after initial pre-workout dose, take 2-4 scoops after training.

Dial-Up Your Energy & Aminos:
2 Scoops
Energy Level: Mild
Amino Level: 5 grams
Caffeine: 100 mg

4 Scoops
Energy Level: Moderate
Amino Level: 10 grams
Caffeine: 200 mg

6 Scoops
Energy Level: Intense
Amino Level: 15 grams
300 mg

Occasion
AM Wake Up: 2-4 Scoops
Pre-Workout Energy: 4-6+ Scoops
Post-Workout Recovery: 2-4 Scoops
Afternoon Pick-Me-Up: 2-4 Scoops
警告:
Allergen Information: Contains Soy (Lecithin). Consult your physician before using this product if you are taking any medication or are under the physician's care for a medical condition. Not for use by those under the age of 18, women that are pregnant, trying to get pregnant, or nursing, or those that are sensitive to caffeine and beta-alanine. Do not consume caffeine from other sources while taking this product as too much caffeine may cause nervousness, irritability, sleeplessness, and occasionally rapid heartbeat.

2 scoops of this product contain 100 mg of caffeine. Do not exceed more than 6 scoops within any 4 hour period. A person should start with not more than 2 scoops (100 mg caffeine) to assess tolerance and then gradually increase serving size. Do not exceed 10 scoops per day. Do not combine with alcohol.

Consume as part of a healthy diet, and drink at least 100 oz of water per day. Exercise may increase your need for additional fluid intake. Keep out of reach of children. *Phenylketonurics: Contains Phenylalanine.
其他資訊:
**Total Caffeine from all sources is equal to 100mg/9g serving. To maximize freshness and minimize product clumping, store tightly-closed container in a cool, dry place.
PipingRock 以先進的內部分析測試支援對品質的 熱誠
PipingRock 保證最高品質,因為我們以自有的最先進設備對我們的 補充品進行設計、製造和測試。

非基改保證
在 PipingRock,我們最重視您的健康。許多食品補充品中具有轉基因生物體 (GMO),然而卻尚未證明可長期安全食用。 PipingRock 致力於不斷增加重多的非轉基因產品系列,不受轉基因潛在影響提供優質產品。
100% 滿意度保證
我們支持我們產品品質。 若您因任何原因對您的 PipingRock 產品有任何不滿意,我們將根據退貨政策進行全額退款。
必需氨基酸(混合水果), 1.29 lbs (585 g) 酒瓶
41365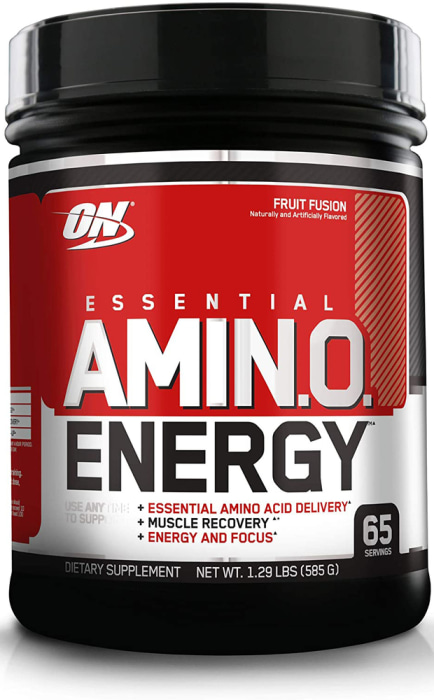 必需氨基酸(混合水果), 1.29 lbs (585 g) 酒瓶
41365
用量:
1 | 1.29 lbs (585 g) 酒瓶
- 有現貨